Today we had the opportunity to sit down with Elena Buenrostro, Founder & CEO of Women Who Drone. Elena is out to push the boundaries of female drone pilots and is at the forefront of UAV education.
Tell us a little about yourself.
I was born and raised in San Diego. I have a video production background and have been a video producer for the past 10 years. I started with teaching video production to middle and high school students, starting with girl scouts and then I was a high school teacher.
I then started working for a TV company producing shows, which led me to jumping over to social media and been in the media space since creating viral videos and social media videos for media companies. Now it's going on two years since I discovered drones. It wasn't something I initially picked up until I wanted to hike the Great Wall of China which is when I bought my first drone.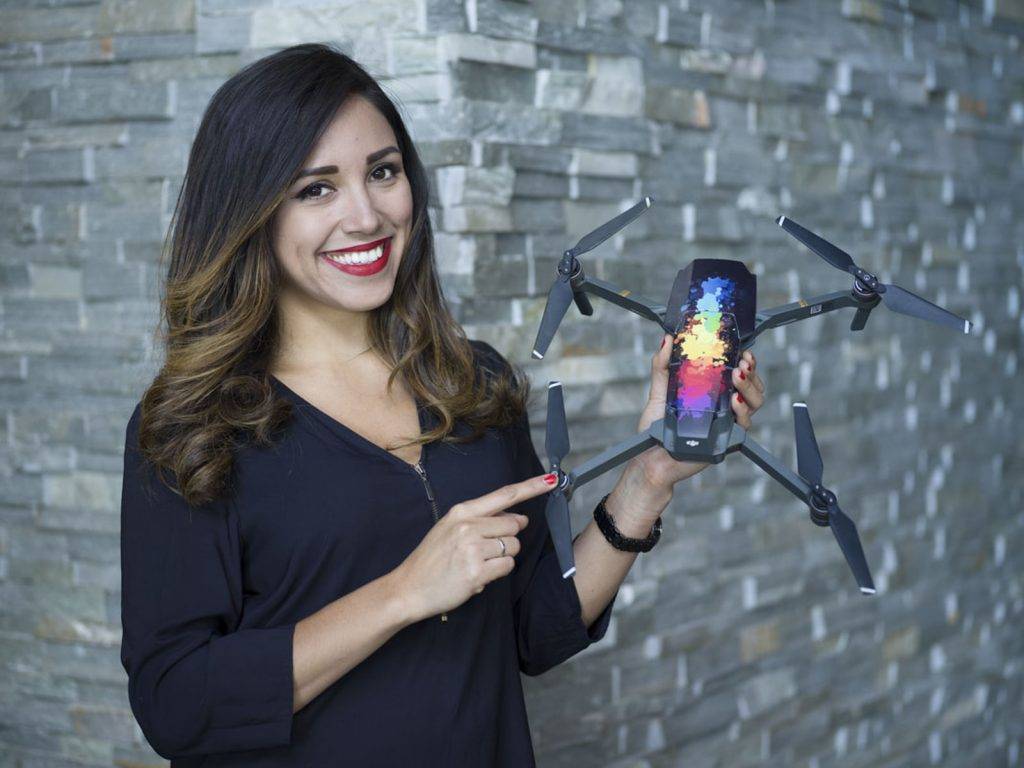 That brings me to my next question, what got you into drones?
It really started with me trying to find a new perspective with my videos as a video producer. I was always making videos, but it wasn't until I wanted to hike the Great Wall of China, where I knew I was going to make a video and document my experience, that I started to do some research on how to make this video unique. I did the research and came across a ton of drone footage. I went on YouTube and searched Great Wall of China videos and saw people taking shots in the air and thought "wow I need to do this, and I need to get a drone."
I immediately started to look into drones I wanted to buy. I bought the Mavic Pro and put that up for a couple of flights and then a week later I was on my way to my trip to the Great Wall. My third or fourth flight ever was actually at the Great Wall of China. From there, I became hooked on what I could capture in the sky. I discovered this new perspective that I wasn't used to… I was always shooting on the ground and this completely changed everything for me. From there I continued my trip to Thailand and got some great footage in Chiang Mai and some of the Island.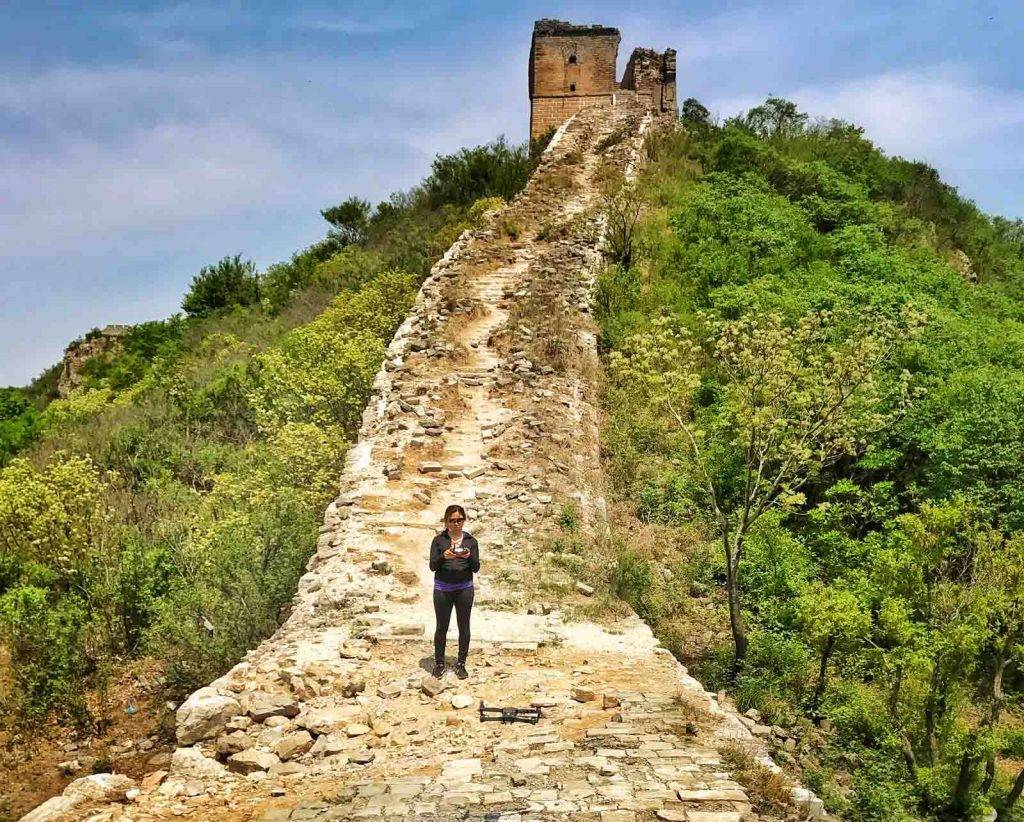 Every time I would go back and review my footage, I just became more and more ecstatic about flying my drone. That caused me to travel a lot more. I came back to the states and did the drive on the California 1 (CA-1) highway, went to Hawaii, and I got the travel bug as a result from buying a drone. It wasn't until a couple of months after flying my drone and posting on Instagram that I saw an increase in my following.
With that, I had a lot of people reaching out to me on how I got started and what I was flying and if I had any advice. That's kind of what started me talking to more women and giving them more advice on flying. I saw this huge gap of communication of women in the drone industry after talking with more women.
How did you first start Women Who Drone?
After I went to the Great Wall a lot of women were reaching out to me, mostly photographers and videographers who already followed me or saw the hashtags I was putting up. They were asking me what I was flying, how I got started, and if I had any advice in terms of how they can get started.
From there, someone reached out to me from the Washington Post and she asked if she can feature some of my aerial images on an article she was writing. I like to ask people who reach out to me how they found me, and she said she couldn't find many women who were flying drones on Instagram.
While that was going on, I was also chatting with a friend of mine in New York and I was telling her about these stories… We both said well there isn't much of a community for women to meet each other, connect, and talk about drones. I then started doing research on how many women were certified Drone Pilot, and there wasn't many. I was telling my friend these stories and we thought we should just start a community! So funny enough we were on our way to fly our drones at a roof top BBQ in Brooklyn and we decided that day we were going to start some type of community. We were throwing out names and one of the names we came up with is Women Who Drone, and in the car on the way to the BBQ we looked up the domain and just purchased it.
What was your main driving force to start Women Who Drone? What do you want this evolve into?
Initially we both sort of saw it as an opportunity to create this space where we can connect with other women drone pilots.
It was a very visual world for me flying my drone and capturing these unique images. So, it just started out with an Instagram and using a hashtag that women can relate to. Last year when we started Women Who Drone, 0 people used the hashtag "#womenwhodrone" … Now we have over 11,000 posts tied to that tag!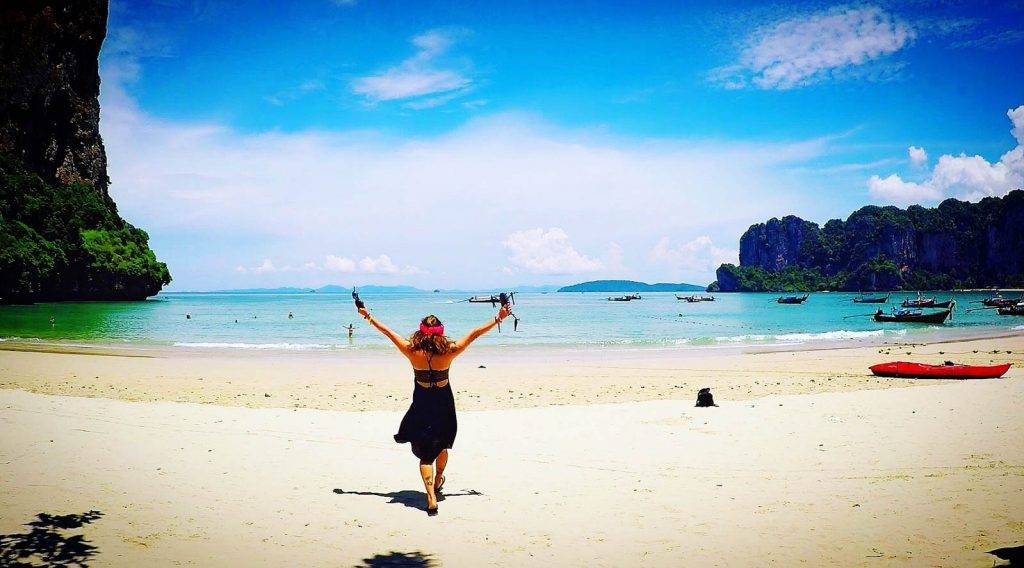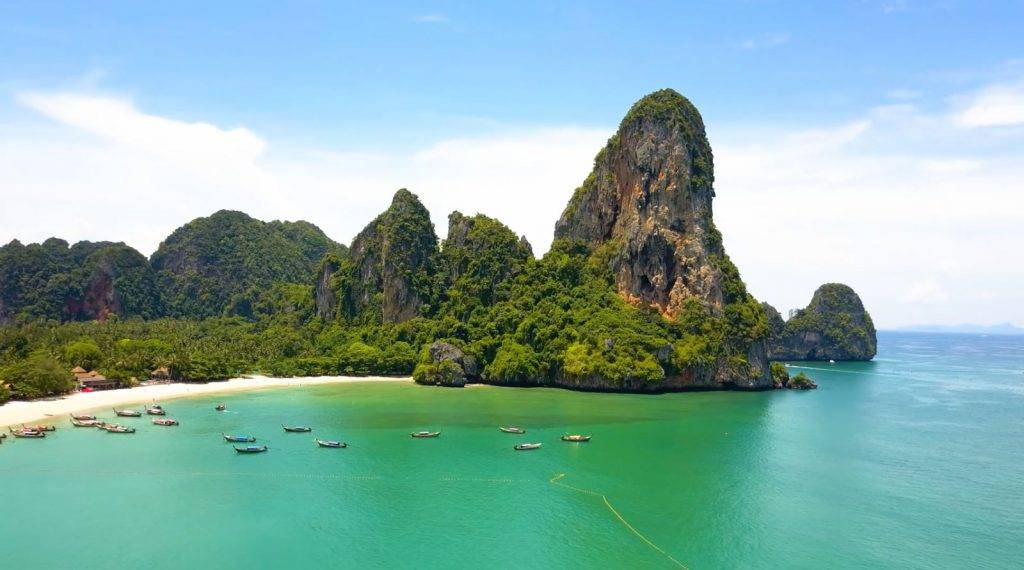 What really inspired me to grow this and build it as a place to get educated and connect other women was, one: it just did not exist so there was nothing like it and two: I've always been an advocate for women. I was part of the 'Vagina Monologues" when I was in college, I was President of a community-based sorority and I was always in this world of building up women and it was something that was combining my passions. I somehow saw all of these things coming together in Women Who Drone.
Tell us more about your crowdfunding campaign? What is the goal?
We've been around for a year and have done quite a bit since we started our partnership with Getty Images where we have created the Women Who Drone collection. It was super exciting because it gives women around the world an opportunity to monetize their aerial content.
We have 50 ambassadors that are contributors to the Women Who Drone Collection and aside from that we also have our ambassadors around the world who you can connect with. So if you are visiting another city, you can learn where you can and cannot fly or just meet up with other women to fly.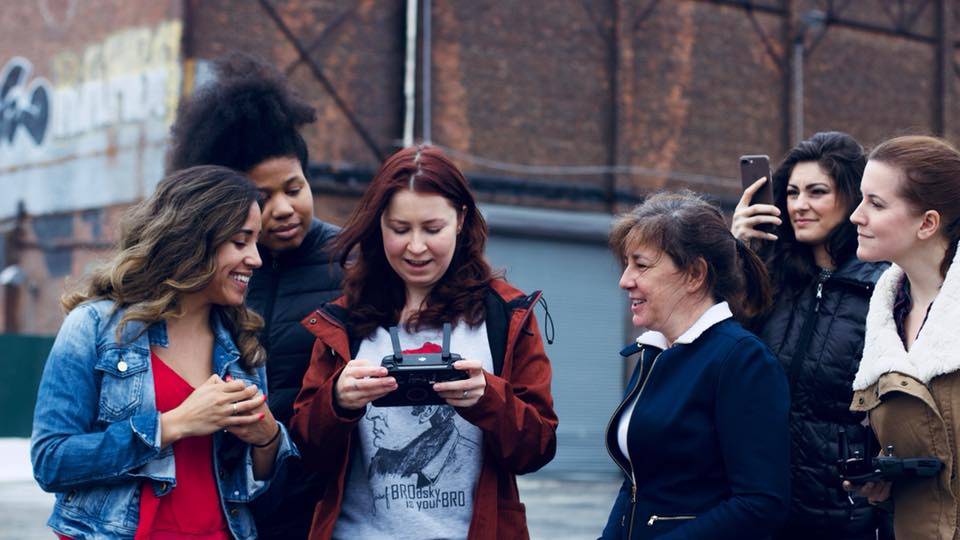 Elena (Pictured Left) instructing at one of her workshops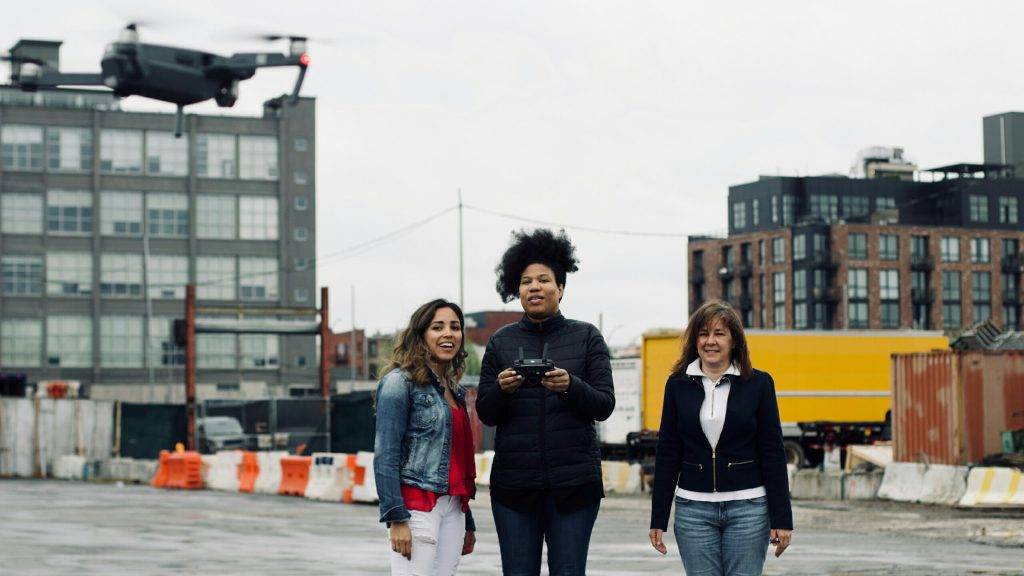 We started our education in January with our one-on-one lessons in Brooklyn, and we decided in March we wanted to take it to another level. We started workshops and those became popular. We did workshops for a dance school in NYC and then we did workshops for women who just wanted to add droning as another skill set. We then noticed other women were reaching out to us asking when we were going to have workshops in other cities. We were then trying to figure out how we can expand these workshops and how we can bring them to other cities and we realized we needed a bit of help of getting the correct drone insurance, marketing these workshops, and training more instructors. Right now, they are traveling workshops, so I'm going myself to the west coast to teach a workshop. We have about 30 women in the US who are becoming teachers for Women Who Drone and they have workshops in their own city that they'll teach using our curriculum.
This is where we decided we should start a Crowdfunding campaign and expand our education but also create online courses. Whether that's how to do 3D mapping or how to come up with more creative shots, we wanted to give options. That's why we launched the campaign and now we're mid-way through it. We're getting a lot of support in many different ways not just monetary. Other organizations are reaching out seeing how they can help us and partner and contribute rewards and even providing drones for our workshops. It's been really great so far and the support we've been getting from people all over the world is extraordinary. We have people reaching out to us from the UK offering their certification courses as rewards so it's really exciting!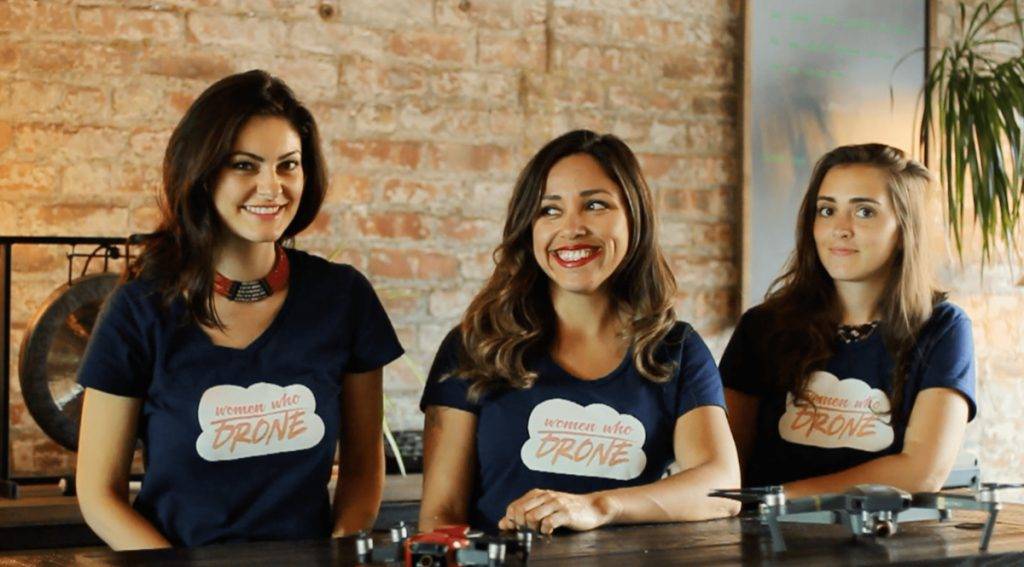 So what's next for you and Women Who Drone?
Expanding education and reaching girls and children at a younger age! We're actually in the process of working with high schools in New York City. We're becoming a vendor for the New York City High School district so we can start implementing our curriculum into high schools so that's really a big stepping stone for us. Another is creating grants and scholarships for women to become more encouraged to apply and take their Part 107 certification test. We have scholarships that go towards their ground school and towards the actual test. This is really the next two big things, homing in on education and at a younger age.
You can check out Elena's work on her Instagram at @elenabuenrostro as well as follow Women Who Drone @womenwhodrone
You can also check out their story and crowd funding campaign at iFundwomen.com