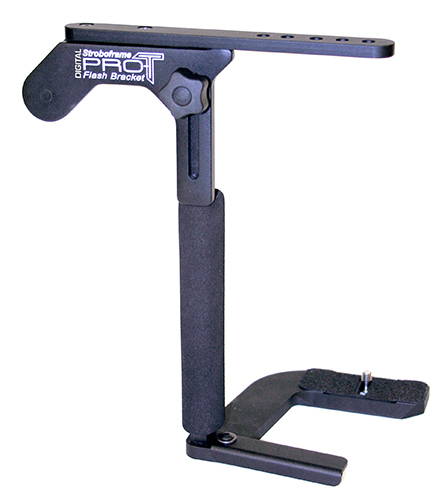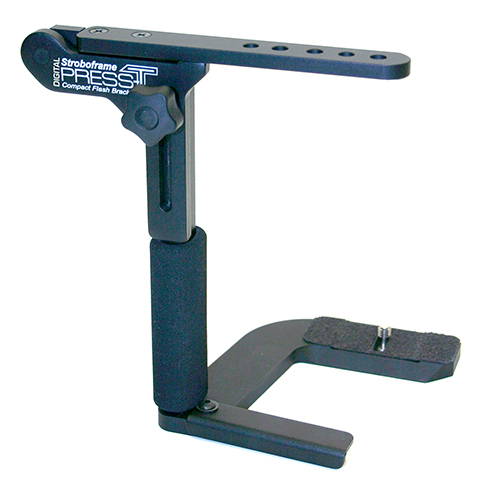 DIGITAL PRO-T & PRESS-T BRACKETS
Our lightest, fastest, professional brackets
The Digital Pro-T and Digital Press-T are flash-rotating brackets. Both are light, compact and fast-handling. The flash arm swings to keep the flash centered over the lens for both horizontal and vertical compositions. These brackets do not require the use of cable release.
Unlike conventional brackets, the Pro-T is designed for you to hold the camera rather than the bracket, providing a more natural way of shooting. It allows you to switch between horizontal and vertical compositions instantly.
The Press-T is a slightly shorter and even more compact version of the Pro-T. It is popular with photojournalists and other shooters who work out of a camera bag.
How Does It Work?
The top surface of the camera mount has a machined cross-sectional recess and is covered by dense textured rubber material. This ultra thin barrier, grips the bottom of your camera body and provides an extremely solid connection. When your camera is securely mounted, this design concentrates the maximum frictional force to the outside edges of the mount to prevent twisting.
• No camera plates required
• NEW adjustable flash height knob
• Robust camera mounting base for added security and confidence
• Integral QR style camera mount compatible with Stroboframe 300-BASE (receiver)
• Pivoting flash arm centers flash over the lens for both landscape and portrait
• Convenient fold away kickstand
• Solid machined T6061 Aluminum construction
• Five Year Warranty
Pro-T and Pro-T/m Specifications
Digital Pro-T Flash Bracket (310-800EX)
Net Weight: 14 oz.
Maximum Height: 10-3/4″
Nominal Lens-to-Flash Distance: 12″
Includes: 1/4″-20 camera mounting screw & flash mounting knob (1/4″-20), 5/16″ Allen Key
Press-T Specifications
Digital Press-T Flash Bracket (310-810EX)
Net Weight: 11 oz.
Maximum Height: 8-5/8″
Nominal Lens-to-Flash Distance: 10″
Includes: 1/4″-20 camera mounting screw & flash mounting knob (1/4-20), 5/16″ Allen Key
PRO-DIGITAL FOLDING FLIP FLASH BRACKET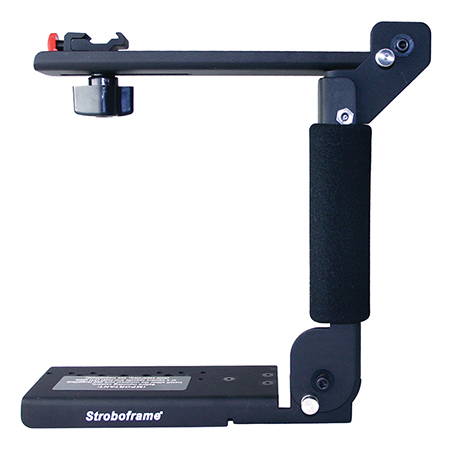 Features:
Compatible with Nikon SC-29 TTL cord
New lock and release folding mechanism
Adjustable bracket height
Compact fold-up design
Improved scratch resistant matte anodized finish
Eliminates "Red-Eye" and softens harsh shadows
Lightweight Aluminum construction
5 Year Warranty
Specifications:
Net Weight: 14 oz
Max Height: 10-3/4"
Folded Dimensions:
8-1/2" L x 3" D x 3" H

Includes:
Shoe-type Flash Mount
Long and Short Camera Mounting Knobs
1/4" – 20 Tripod Mount
Hex Key for Height Adjustment
Optional Items:
Anti-Twist Plates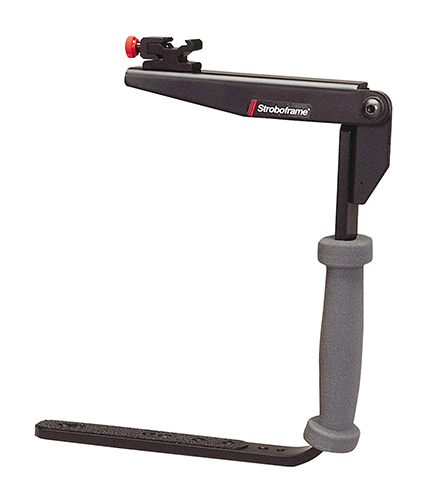 Our most economical flash-rotating bracket
The Quick Flip 350 model offers high value, compact size, light weight and fast handling. No wonder it's the best-selling bracket on the market! Although lower in price than our top-of-the-line brackets, it shares the same quality materials and construction. The Quick Flip 350 accepts all 35mm cameras except those with large, accessory battery packs or motor drives.
Quick Flip Specifications
Net Weight: 10 oz.
Bracket Height: 9.5″
Nominal Lens-to-Flash Distance: 12″
Includes: Shoe Mount*, 1/4″-20 camera mounting knob
Suggested Accessories: Camera Auto Quick Releases
Cat. No. 310-635 (Quick Flip 350)
Cat. No. 310-666 (Quick Flip 120- medium format)
*Quick Flip brackets are not compatible with Metz quick release mounts. For Metz or other handle-type flash, use Bracket Handle Mount (#300-HAN), sold separately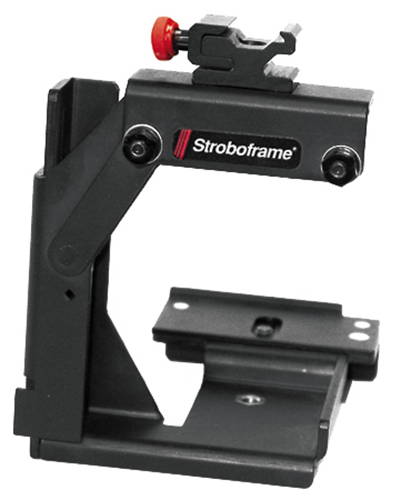 The most compact approach to flash rotation.
The ultra-compact, "gripless", flash rotating bracket. It cradles the camera unobtrusively while maintaining an over-the-lens flash position with a design that lets you hold the camera rather than a grip, and rotate the flash for horizontal or vertical composition. What's more, the stress and weight of the flash unit is transferred from the light-duty camera shoe to the rugged Stroboframe mount. The Stroboflip is made for shoe-type flash units.

Features:
Accepts Digital SLR's, 35mm SLR's and smaller 6 x 4.5 cameras
Supplied with a machined, positive-locking shoe mount and a 300-SLR Anti-Twist plate (interchangeable with other AT Plates)
Strong, lightweight aluminum construction with baked-on finish for hard use and durability